The T5000-PRO Wireless Throttle is a full-featured DCC decoder programmer and locomotive operating throttle all AirWire Decoders.

A Powerful DCC Programmer In Your Hand
The T5000-PRO can easily program any AirWire Decoder or any NMRA-DCC compatible decoder connected to an AireWire Decoder or the AirWire CONVRTR. The T5000 supports both types of NMRA programming - Service Mode and Operations Mode. Menus and on screen prompts make programming much easier. The T5000 is a fully compliant NMRA-DCC programmer which eliminates the need for a separate DCC system to program NMRA decoders.

Main Display Screen Tells All
A large graphic display plus simple menus make this throttle easy to set up and easy to use. All of the important information about the locomotive being controlled is presented in big bold, daylight visible characters. If you operate at night or in subdued lighting, a version of the T5000-PRO with a user controllable backlight is available.

The main screen, called the "home page" also shows important throttle setup information. The active frequency is shown as well, the number of speed steps in use. Finally, the battery charge indicator always lets you know the throttle's battery status.

Command Keys Are Out Of The Way
The front panel key placement insures that command or menu oriented keys are out of the way of the function keys and speed control. Each key is defined and matched to an appropriate menu for easy use.

Convenient Menus
The menu key brings up a list of 8 items that provide complete control and setup of the throttle. Pushing the MENU key once brings up page one. Pushing it a second time brings up the 2nd page. Just key in the number for the task or item you wish to use.

The most commonly used commands are located on the first menu page for easy access. Here you can change frequencies, use Operations Programming, change the speed steps or turn off the throttle.

Page 2 of the menu accesses the Service-mode DCC programmer, transmitter power level selection, auto shut-off timer and factory reset.

Big Speed Knob With Push Switch For Direction Control
The big speed knob is at home with either right or left handed operators. The present speed setting is shown on the display. Precision control is easily accomplished with selectable speeds steps of 14, 28 or 128. Changing direction is done by pushing down on the big knob. The arrow in the display changes to indicate if the train is moving forward or reverse.

Additional User Selectable Features
Adjustable auto-off timer from 0 minutes (never) to 9999 minutes
Adjustable transmit power level with 11 different power settings
17 user selectable transmit frequencies
29 Function keys from 00 to 28
Long Battery Life with up to 20 hours from a set of AAA batteries
8 locomotive memory slots to store all setup information
Want To Know More?
Download the T5000 User Guide. This illustrated and easy to read guide describes all of the features and the operation of the T5000 wireless throttle. Unlike other manufacturers, we include a printed and bound copy of the User Guide with each throttle.
Pricing and Options
T5000
T5000BL
BC
Wireless Throttle and User Guide (without backlight)
Wireless Throttle with Backlight and User Guide
Belt Clip Accessory For Either Throttle
$159
$179
$6

&nbsp &nbsp &nbsp &nbsp &nbsp &nbsp &nbsp &nbsp &nbsp &nbsp &nbsp &nbsp4.8" Tall, 2.5" Wide, 0.75" Deep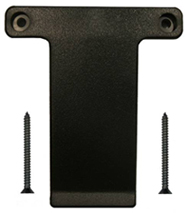 The optional belt-clip mounts onto the back of the throttle with the included screws.